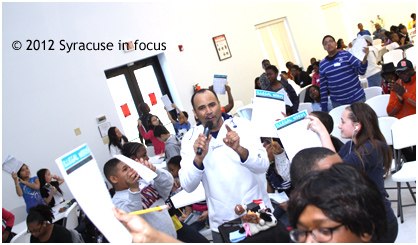 Erick Cork: Born to InspireThose who can do; those who can't teach. Those who can't teach administrate; and those who administrate should hire Erik Cork.
Cork, who plays the role of a walking Hip-Hop thesaurus, dj, preacher, high-0ctane story-teller and teacher, brought his Rap, Rhythm and Rhyme Workshop at Bethany Baptist Church today.
Hundreds of students from several Central New York  school districts and their parents attended.  The day was an educational experience today that was exciting, refreshing and pure edu-tain-ment.
I saw parents stare in unanimous disbelief as they watched elementary age to high school-aged children enthusiastically participate in learning vocabulary words and study skills to the beat of contemporary music.
Cork's philosophy illustrates that children be excited about learning. All it takes is a fresh approach, flexibility in formula and higher expectations (by parents and educators).