Posts Tagged 'Sharon BuMann'
Tuesday, October 2nd, 2012
Tuesday, October 2nd, 2012
Friday, September 21st, 2012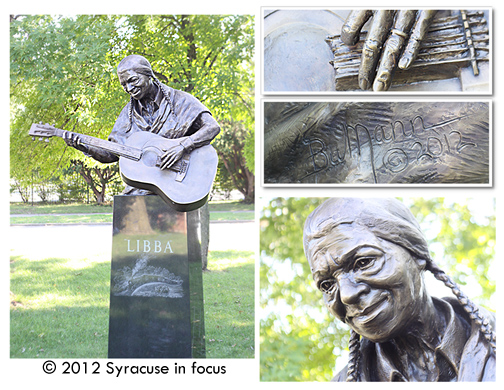 Bronze statue at Libba Cotton Grove, sculpted by Sharon BuMannIt's hard to understand the precision and detail that goes into the work of Sharon BuMann, the sculptor best known for her work at the NYS Fair (with butter) and the Jerry Rescue monument in Clinton Square.
Her latest work, a bronze of famous folk singer Libba Cotten, will be formally dedicated in a few weeks.  Here's a piece written by columnist Sean Kirst describing Cotten's musical influence.
BuMann was one of the first artists we featured on this site. We visited her studio about 10 years ago to watch her work. She is a great artistic ambassabor for our region and certainly a living legend.