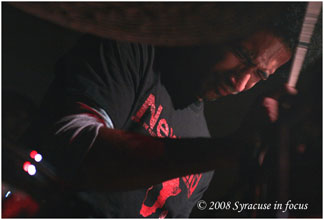 Some things you have to see to believe; some things you must feel before you can hear.
This was the case last night when I attended a concert by Soulive for the first time last night, held at the Westcott Theater. I over heard someone in the crowd say, "if you're going to be here, you better be upfront." Sounded like good advice. Especially since I wanted to get a good shot and only had a wide-angle lens.  But I may have been too close. At one point Alan Evans (pictured above), hit the kick drum so hard I thought my head would blow off.  Just like that I was "baptized," as one fan told me.
Alan Evans, along with his brother Neal, bass organist, make up the funky heart and soul of the band.  On stage they were joined by guitarist Eric Krasno and later by guest saxophonist Sam Kininger. I'd covered Kininger during a previous music fest.
To say I was impressed with Soulive would be an understatement. I found their live performance and musicianship as good as any band I've seen lately.  And their energy was like Red Bull mixed with Amp.
The Syracuse crowd gave new meaning to the word fanatics,  but on the other hand, I found a lot of musicians in the audience.
Made for a sweaty, yet sophisticated party.
The opening act was the Ithaca band Thousands of One, which featured our friend Will Sapp on background vocals. Glad to see he and his band were in such good company.
The  beat goes on.