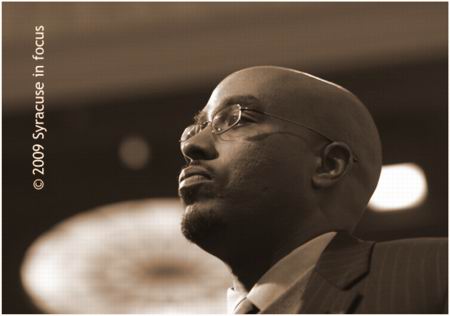 Wright State University's John Rogers, III  (pictured above) was the latest speaker for Syracuse University's 11th Annual Dream Week Celebration. He gave a talk last night at Hendricks Chapel, or should I say, taught the group about Hip Hop Psychology 101.
One of his goals is to enlighten and re-educate younger fans of the genre. Rogers showed a poignant slide show illustrating the good (Martin, Malcolm, Pryor–post Africa visit, KRS-1 and Barack), the bad (Sambo cartoons, prevelent use of the N-word) and the ugly (Flav, plus anyone else wearing more gold than Mr. T) as it relates to the  history of black liberation struggle, civil rights and the current medocrity that often passes for rap music.
Hip Hop Psychology 101 does not denegrate rap as much as it demands more accountability and consciousness from the artists as well as their fans. Especially Rogers says, because Hip Hop entertainment and culture continues to grow on a worldwide scale.
Cultivate your history, image is everything.