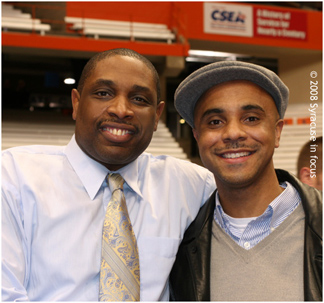 Last night in the Carrier Dome, Cleveland State stunned the 11th-ranked Syracuse University Men's Basketball team and handed them their first loss via the sweetest buzzer-beater 60ft bank shot I've ever seen (courtesy of CSU's Cedric Jackson). The shot stunned the crowd following a very evenly-matched contest where there were several lead changes during the second half.
Equally exciting for me was seeing my former college roommate and CSU Associate Head Coach Jayson Gee for the first time in nearly 20 years. He remains one of the best basketball minds on the college scene.
Gee has also served as a wonderful mentor (despite the differences in our career paths).  Without knowing it, he helped lay the foundation for this current venture.
Thanks for the tickets Gee. Continued success.
Tags: Cleveland State University Vikings, Coach Jayson Gee, Syracuse Carrier Dome, Syracuse University